FDA-Approved Purity and Potency
LOVAZA® uses a 5-step purification process that helps remove mercury and other environmental toxins that can be present in over-the-counter fish oil.
Prescription Strength EPA & DHA
Each 1-gram capsule of LOVAZA® contains 465 mg EPA and 375 mg DHA. EPA and DHA are the active fatty acids proven to lower very high triglycerides.
How to Get Brand-Name LOVAZA®
Not all Omega-3 supplements or medications, branded or generics, work the same for all patients. Make sure that you get prescribed Brand-Name LOVAZA®, and that your pharmacist gives you Brand-Name LOVAZA®.
---
Ask Your Doctor
Ask your doctor to prescribe brand name LOVAZA®, no substitutions and indicate 'DAW1' on your prescription.
Get Your Copay Card
Get your Copay Savings Card, you may pay as little as $5.00 for your prescription.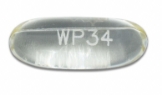 Make Sure You Have Brand Name LOVAZA®
To ensure you get this brand name medication, look for the distinctive shape and marking of LOVAZA®. LOVAZA® capsules have a soft gelatin exterior, appear pale yellow / amber, and have "WP34" inscribed on the outside.
.
To learn more about how to get brand-name LOVAZA® from your doctor and pharmacist, view our in-depth guide: