How To Make Sure You Receive Brand Name Medication:
Ask Your Doctor
Ask your doctor to prescribe brand name LOVAZA®, no substitutions and indicate 'DAW1' on your prescription.
Get Your Copay Card
Get your Copay Savings Card, you may pay as little as $5.00 for your prescription.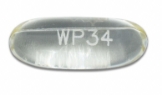 Make Sure You Have Brand Name LOVAZA®
To ensure you get this brand name medication, look for the distinctive shape and marking of LOVAZA®. LOVAZA® capsules have a soft gelatin exterior, appear pale yellow / amber, and have "WP34" inscribed on the outside.